What is a frame tent?
A wedding or commercial tent consisting of a vinyl top stretched over a metal frame and containing no center poles.

What is a pole tent?
A wedding or commercial tent made of vinyl supported by poles around the perimeter and in the center.
What size tent do I need?
Tent size would depend on the number of guests you have and the nature of your function. Our event specialists can assist you in determining the size of tent that you will require. In addition, we can supply you with a scale diagram of your tent and equipment placement (i.e. table arrangement) as in the example below.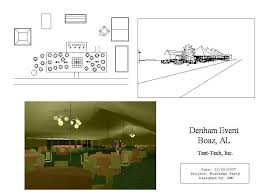 How much space do I need for my tent?
Allow a minimum of eight feet around the perimeter of the tent for setup. That means if you order a 20'x20' tent, the area you need for installation is 28'x28'.
Other space factors to consider are overhead power lines, tree branches, eave lines, and other obstructions overhead that may prevent safe tent installation.
Another site concern is underground lines (water, gas, phone and electric).  Please call Alabama 1 Call at 1-800-292-8525 for free line location at your site.
How do you anchor tents?
All of our tents must be staked down. (see our Requirements & Guidelines page). When you reserve a tent we will ask you what type of surface you will be setting up on, be it grass, asphalt, concrete, etc. Some surface installations may require additional charges due to labor or material costs.
There are places and surfaces where a tent cannot be placed for safety considerations. Should our tent crew arrive on site and determine that the installation of your tent at the selected location is not possible, they will notify us so that we can work with you on an alternative.
When will my tent be installed/removed?
We will normally install your tent one to two days prior to your event. However there may be times due to scheduling conflicts that we need to install your tent earlier.  For weekend events, pickup of your tent would normally be the next business day following. There is no cut and dried time for installation or pickup, however we always strive to be flexible to meet your needs.
What about setting up or taking down tents outside of normal hours or on holidays?
Again, we always strive to be flexible in scheduling. At times we do encounter challenging time lines that must be adhered to for one reason or another. When this is the case, please contact us to discuss any additional charges that may be required.
Do you do site inspections?
Site inspections can be done when we have been advised of a special situation or work area conflict that requires an adjustment to our normal installation procedure. Usually site selection is pretty simple. If you measure your own site and keep in mind overhead obstructions and underground hazards, your site will normally be fine.
How do you deliver my rental items?

 
Your rental items will normally be delivered by a large panel delivery truck.  Please remember that most tent installations require us to be able to drive right up to where we need to work due to the size and weight of the tent and equipment.   If that is not possible, and we need to transport materials more than a minimal distance, please advise us prior to delivery so we will be prepared.