How far in advance do I need to order?
We suggest 3-4 weeks in advance before your scheduled event for our inflatables, if you are looking for a specific theme or a specific inflatable you like. However, we generally have inventory available for last minute bookings, you can choose from the ones we have left in stock. On the tents, we also suggest for you to book them 3-4 weeks in advance. If you book in advance be aware that we require a 50% down deposit, for it to be reserved. If a deposit is not paid down it is only considered a quote and it will be available for the next customer.
Do I have to be present when the delivery guys arrive for set-up with my rental items?
Yes, we recommend for someone to be there to show the delivery guys where to set up the items in the correct spot. If you are not planning to be there, your order will have to be paid in full. Please go ahead and mark the spot where you want them to set up the items. It is best to be present when they set up, so you can avoid a moving fee if you don't like where they set them up.
How do you deliver my rental items?
Your rental items will normally be delivered by a large panel delivery truck. Please remember that most tent installations require us to be able to drive right up to where we need to work due to the size and weight of the tent and equipment. If that is not possible, and we need to transport materials more than a minimal distance, please advise us prior to delivery so we will be prepared..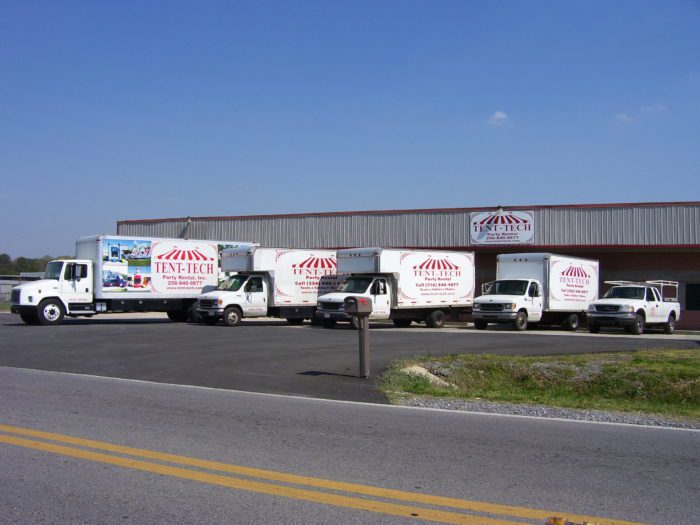 Do you do site inspections?
Site inspections can be done when we have been advised of a special situation or work area conflict that requires an adjustment to our normal installation procedure. Usually site selection is pretty simple. If you measure your own site and keep in mind overhead obstructions and underground hazards, your site will normally be fine.
How long is my rental for?
Rentals are for 1 – 3 days, unless stated otherwise. Ex: Pickup Friday & Return on Monday or Pickup Tuesday & Return on Thursday
Do you require an ID for the over the counter rentals?
Yes, we do require an I.D. to be shown for the over the counter rentals. If no ID is shown, we will not let you take the items you rented until we see an ID.
Is there a late fee charge if I do not return the items on the required return date?
Yes, there is a 25% late fee charge per day on the items that are not returned on the due date.
Do I get charged if I do not return an item or If I lose a item?
Yes, we do charge if you are missing equipment that was provided for the rental you made. For example, if you forget to bring the stakes back that were provided for the inflatable you rented, we will make a note and we will send you out an invoice for missing equipment. The invoice for the missing equipment will be required to be paid if you do not bring the items back or if you cannot find them. If you find the items that you were invoiced for, please return them to the front office, so the invoice can be discarded.
Are the commercial string lights, Christmas lights?
No, the commercial string lights are not Christmas lights. Commercial string lights are bigger in size and have a cage around the bulb. They are mainly used for commercial events, such as car dealership events.
What is a pole tent?
A wedding or commercial tent made of vinyl supported by poles around the perimeter and in the center.
What is a frame tent?
A wedding or commercial tent consisting of a vinyl top stretched over a metal frame and containing no center poles.
What size tent do I need?
Tent size would depend on the number of guests you have and the nature of your function. Our event specialists can assist you in determining the size of tent that you will require. In addition, we can supply you with a scale diagram of your tent and equipment placement (i.e. table arrangement) as in the example below.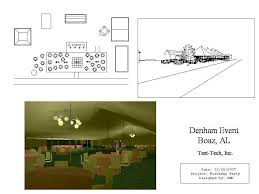 How much space do I need for my tent?
Allow a minimum of eight feet around the perimeter of the tent for setup. That means if you order a 20'x20' tent, the area you need for installation is 28'x28'.
Other space factors to consider are overhead power lines, tree branches, eave lines, and other obstructions overhead that may prevent safe tent installation.
Another site concern is underground lines (water, gas, phone and electric). Please call Alabama 1 Call at 1-800-292-8525 for free line location at your site.
How do you anchor tents?
All of our tents must be staked down. (see our Requirements & Guidelines page). When you reserve a tent we will ask you what type of surface you will be setting up on, be it grass, asphalt, concrete, etc. Some surface installations may require additional charges due to labor or material costs.
There are places and surfaces where a tent cannot be placed for safety considerations. Should our tent crew arrive on site and determine that the installation of your tent at the selected location is not possible, they will notify us so that we can work with you on an alternative.
When will my tent be installed/removed?
We will normally install your tent one to two days prior to your event. However there may be times due to scheduling conflicts that we need to install your tent earlier. For weekend events, pickup of your tent would normally be the next business day following. There is no cut and dried time for installation or pickup, however we always strive to be flexible to meet your needs.
How do I setup an OTC tent?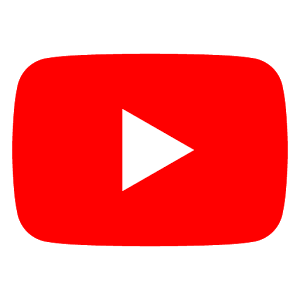 What about setting up or taking down tents outside of normal hours or on holidays?
Again, we always strive to be flexible in scheduling. At times we do encounter challenging time lines that must be adhered to for one reason or another. When this is the case, please contact us to discuss any additional charges that may be required.
Are the heaters propane or gas?
Our heaters are propane only.
How much area can the heating systems cover?
* The patio heaters cover an area of approximately 30 feet.
* 250,000 BTU heater covers approximately 30×60 foot area.
How do I setup an OTC Inflatable?
Will an inflatable fit in a small car?
No. All pickup items require a pickup truck or a trailer. We will not load an inflatable if you bring a small car.
Are inflatables required to be staked down?
All inflatables are required to be staked down to the ground for safety purposes and the safety of the participants.
Do the inflatables need a generator?
Generators may be used in places where there is no power available. For example: parks, big fields, sport fields, etc.
Do the inflatables require a power source?
Yes, inflatables do require a power source in order to be operated. They can be used with a regular house power outlet.
---